Home page
LP08 Luger Related Article
3 June 1913
In accordance with a report made to me, I approve of adoption of a self-loading pistol with shoulder stock, a sample of which has been submitted to me under the designation "Lange Pistole 08". Supplementary to my order of 22 August 1908, I hereby order that the field artillery and the airmen are to be armed with the long pistol, depending on the availability of funds. Additionally, the pistol may be used to equip fortifications...
The above statement refers to the Kaiser Wilhelm II order of the LP08 or Artillery Luger and is taken from THE LUGER BOOK by John Walter, &copy 1986, p. 149.
The following is a photo collage of part of that history which includes

| | |
| --- | --- |
| Kaiser Wilhelm II In Garde-Artillerie-Uniform | Imperial Army military pass sheath |
Top of page
---
1917 LP08 instruction manual
&nbsp
Previous Foldout
Next Foldout
This is an original LP08 instruction manual, including fold-out illustrations. Apparently, this manual is
the only such version published, no other versions have surfaced. Ironically the manual is dated 1917,
three years after the LP08 was introduced in the field.

Top of page
---



Imperial German army officers shooting/testing LP08

&nbsp
&nbsp&nbsp&nbsp&nbspA rare photograph postcard of an LP08 with wooden shoulder stock being fired by an Imperial German Army officer, being observed by a group of very attentive Imperial German army officers, standing and seated. One officer is possibly taking notes. This could be a photograph of the GPK or Gewehr-Prüfungs-Kommission (Weapons-Tests-Commission) personnel.
&nbsp&nbsp&nbsp&nbspThe reverse side of the postcard is postmarked 1917. This alone could eliminate this photograph as being of the original developmental testing of the Artillery Luger (LP08) unless the postcard was printed years earlier and only purchased/used in 1917. Either way, the army or GPK apparently had issues as a rough translation of the word "Probeschießen" in the lower left rear side of the postcard is "shooting investigation". A translation of the hand written message could possibly be helpful in determining the purpose of the "shooting investigation".
&nbsp
Top of page
---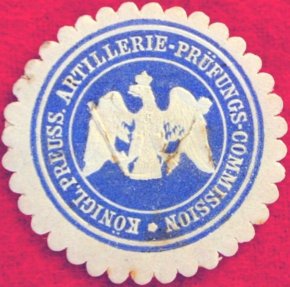 "Gewehr" Artillerie-Prüfungs-Kommission
official stationary seal
This picture is an original "Gewehr" Artillerie-Prüfungs-Kommission official stationary seal, labeled around its circumference: KÖNIGL.PREUSS.ARTILLERIE-PRÜFUNGS-COMMISSION.
Top of page
---
Composite photograph
Top of page
Copyright © 2002, Land of Borchardt, All rights reserved.