This is a very old and scarce, cleverly made 3-¼ x 5-? inch, 16-page pocket size sales catalog for "The Ideal Revolver Holster and Carbine Stock" manufactured by "The Ideal Holster Co. of Toledo, Ohio", circa 1901-1910. The leather and steel holster could be removed from the belt after the pistol was taken out, and then attached to the butt of the pistol to form a shoulder stock and turn the weapon into a carbine. The outfit was invented by Mr. Ross M.G. Phillips of Los Angeles, California and heavily promoted about 90 years ago by The Ideal Holster Co. They made these holsters for automatic pistols like the German Luger as well as for Colt Army and Navy revolvers and the Smith & Wesson 0.38. This brochure was obtained by the previous owner in the 1950s along with an American Eagle Luger and the Ideal Holster from an old man in Minnesota who bought the holster new to fit the Luger. Unfortunately, per the previous owner this brochure is all the he had left. Also per the previous owner the US Government destroyed the gun and the holster, but that is another story....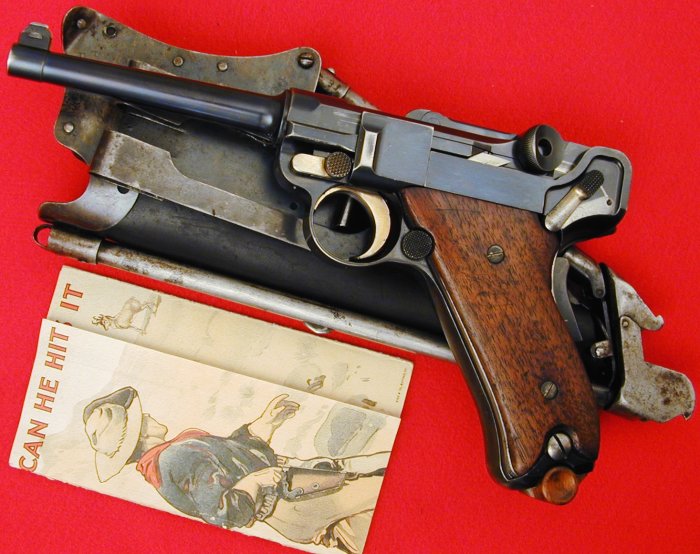 Can He Hit It
He Can't Miss It
The Luger Book by John Walter on page 138 states: Ideal Holster Company, 254 South Broadway, Los Angeles, California. 'Manufacturers and Dealers in Attachments for Guns', according to the British patents for 1901, the Ideal Holster Co. was the assignee of the patents sought in the USA by Ross M.G. Phillips. The Ideal Holster-Stock was made for about five years, suiting a variety of guns (including the Parabellum) once special metal-backed grips had been substituted for the standard patterns. Trading seems to have ceased by 1910.

As early as 1914 the Ideal Luger carbine holster stock was in demand as a used item as testified by the subject 1914 Outdoor Life magazine wanted ad shown below.