Home page
1943 British Home Guard pocket book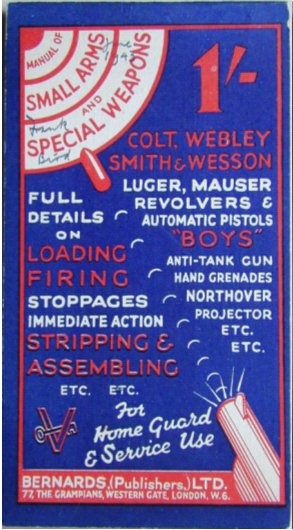 9 m.m. LUGER AUTOMATIC PISTOL.
"This probably one of the most common of the German
automatic pistol that may come into our hands and uses 9 m.m.
Parabellum ammunition only. This ammunition can be identified
by the fact that it is approximately 1.14 inches to 1.16 inches in
length.
NOTE. – This gun will utilize 9m.m sten gun ammunition.


THE WALTHER 9 m.m. AUTOMATIC PISTOL..
"This is probably the third most commonly used of German small
arms that members of Home Guard are likely to come across
in the event of invasion taking place and, therefore, they should be
in a position to understand and the use and details of this weapon."


THE 9 m.m. MAUSER AUTOMATIC PISTOL..


The above comments are excerpts from a rare, circa 1943 World War 2 "Pocket Book"
published by BERNARDS (Publishers) LTD. London for the British Home Guard in event of a
German invasion. The purpose was to familiarize the citizenry with the use of captured German
weapons and other pistols, revolvers available at the time.