Home page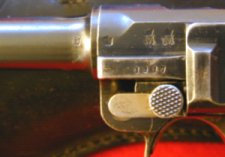 1917 Imperial German Navy Luger Rig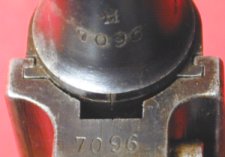 Featured herein is an original 1917 Imperial German navy Luger rig, serial number 7096 with a matching serial numbered plain wood bottom, crown M stamped magazine. The finish is about 95% with about 50% straw, all parts matching with no gripstrap markings. The lack of a gripstrap marking is totally consistent with period navy regulations. The holster is a converted original issue Model 1904 black leather, teardrop style cover flap with stud-and-slit closure, converted from a board stock attachment to a two-belt loop configuration. The inside of the holster flap has a tool pouch with an unmarked tool inserted and the cleaning rod leather pouch attached to the holster spine contains an excellent condition brass zigzag cleaning rod.

The holster maker's name and location is deeply stamped, in two lines is: H.CLEMEN1, arched and ELBERFELD2, straight, directly below, along with a strong crown M inventory stamp and all is located inside on the rear holster body (interior rear wall), just under the flap attachment. This seems an unusual location for the early Model 1904 holsters, where the crown M stamp and makers name, along with a date is usually located on the holster flap underside. Per Walter1 this leather maker's name has been found on PT.08 holsters in the 1911-14 era, yet with the subject holster being originally a Model 1904 one would put the HANS CLEMEN firm involvement in holster manufacture possibly earlier than 1911 and/or later than 1914 and additionally with the Imperial German Navy. Luger literature states, "Reportedly in early (February) 1917 orders were given to construct holsters with belt loops… A pair of straps were issued to convert the First Issue holsters to belt loop holsters."3. Assuming that information is accurate one can conclude that up to 1917, First Issue "Model 1904" holsters were being produced and that being the case, the subject holster could have been produced as late as 1917.
Also several First Issue Model 1904 belt loop modified holsters have been observed with single belt loops and there is no mention of straps being issued for the First Issue twin magazine pouch, of which were obviously simultaneously converted. Replacing holster belt loops is a simple operation and even if executed at an official dockyard requires no specific repair stamp or any other indication of modification and one has to take on faith that any observed modification was "official", given the fact that both single4 and dual belt loop modifications have been noted one can conclude that the "order" was not specifically adhered to.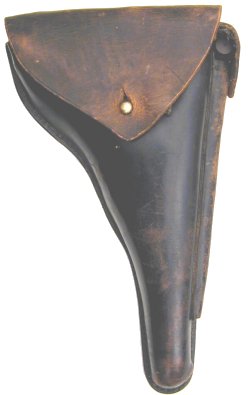 Written in ink on the inside of the holster flap and deeply scribed or scratched on the rear holster body is the name E.G.WATTERSON and additionally on the rear holster body, under the name is an eight digit number 39675121. This rig was advertised by a major, reputable Luger dealer as: "GI's name and service number on back of holster, this rig is fresh from veteran and exactly as brought back." I don't know the source of the dealer's information, but if true this navy rig could have been captured by this particular GI and used against Germans. It is also possible that the subject 1917 rig was, before being captured (liberated), used by a German soldier, or possibly a paramilitary unit or a member of the Volkssturm5 as "Every conceivable gun was to be pressed into Volkssturm use in 1945".6 There is evidence of GIs using captured WW1 Artillery Lugers during WW2.7 Whether US Army regulations required the soldiers name and service number applied to the holster was for identification or use is unknown although rumor has it that the WW2 GIs did mark their captured weapons for concern of being stolen, in this case the holster was so marked.


1Hans Clemen, Elberfeld. Nothing is known about this leatherware specialist, whose marks have been reported on PT.08, dated 1911-14. Trading is presumed to have ceased during the 1920s. The Luger Book, p.89, C27 by John Walter, Copyright ©1986.
2ELBERFELD, a manufacturing town of Germany, in the Prussian Rhine province, on the Wupper, and immediately west of and contiguous to Barmen.
3Imperial Lugers and Their Accessories by J.C. Still, p.186, Copyright ©1991.
4Luger Holsters and Their Accessories of the 20th Century by E. Bender, Copyright © 1992, p.248.
5Pressed by advancing enemy armies on both fronts, Adolf Hitler played his final card in World War II by mobilizing all German civilian males between sixteen and sixty and indoctrinating them for a final apocalyptic defense of the Reich.
6The Luger Book by J. Walter, Copyright ©1986, pp. 48.
7The Luger Book by J. Walter, Copyright ©1986, pp. 44-45.