Text Resize
buttons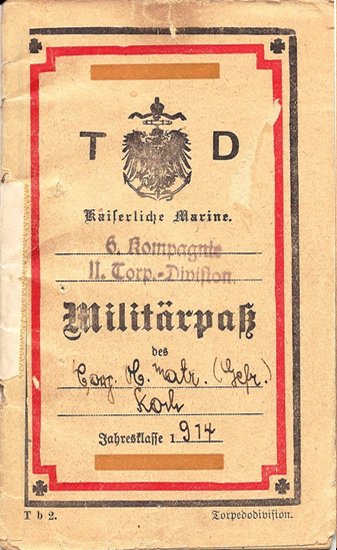 Mouse over above image to see inside pages of pass.
1914 Kaiserliche Marine military pass with special entry on page 6: Besondere militärische Ausbildung: Pistole M.04, stating that the sailor has had "Special military training" or was an expert with the Pistole M04. The reference to the Pistole M04 is to the P.04, M.04, M1904 or C.04 all being used interchangeably by the Imperial German Navy - it is interesting that this was classified as "Special Military Training", and worthy of mention, rather than being regarded as a basic training skill, as was the rifle.
During WWI he was a regular sailor in the Kaiserliche Marine, Torpedo Division, 6 Company, II. Corp. - Division and was trained to the basic grade, Matrosen (sailor) - his name, from the front page, appears as Koch, graduating in 1914. It is difficult make out the writing before Matr., possibly Coy. N., but the first letter is quite indecipherable, as this is a very confusing mixture of Sütterlin and older script, but this appears to be a specialist grade of basic sailor - the bracketed abbreviation (Gefr.) after Matr. appears to be the Army equivalent rank, Gefreiter, or lance-corporal/PFC, so he seems to have been a specialist of some sort and consequently held slightly higher rank.
Page 10 of the pass is a stamp indicating the sailor was a member of the K.I. Freiwilligen Korps or Volunteer Corps, Wilhelmshaven as of 12.12.18. These were right wing volunteer units set up hurriedly in late 1918/early1919 by service officers, in the absence of a functioning government in Germany after Wilhelm's abdication, and mostly disbanded by March 1919 (note this man's service period 12.12.18 to 7.3.19), to combat Communist insurrectionists, many of which were Naval mutineers, at which they were very effective. The main unit set up in Wilhelmshaven was the Freikorps Erhardt, the remnants of which eventually formed the core of the SS after 1933, but it is not known if this man's K. I. Freiwilligen Freikorps was part of this or not. The Freiwilligen Korps were very complicated and ill documented in their structure.